Are you ready to see if you're an Aurifil WINNER??
I'm ready to announce it!
But first, let me introduce you to the
Aurifil Designer of the Month for September....
Find out all about Amy by clicking *HERE*
Her cute block is sure to get you in the mood for fall!
And don't forget to post your own blocks on flickr by clicking *HERE*!
Even if you don't have blocks to share, check them all out, they're SO fun to look at. I call it Amazing Aurifil Eye Candy.
While you're blog hopping around today, you can catch us blogging about our favorite sewing tool over at The Sewing Loft blog!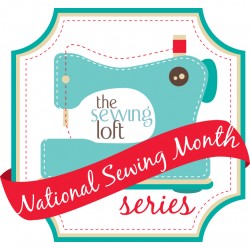 We're celebrating National Sewing Month with The Sewing Loft.
Aside from Aurifil thread, can you guess what fav thing the Lizzie B girls can't live without? (ok, chocolate aside as well....!)
Lots of freebie fun projects happening at The Sewing Loft all month, be sure to check it out!
True Random Number Generator
14
Powered by RANDOM.ORG
NUMBER 14! YOU'RE THE WINNER!
Send your addie to lizziebgirls@gmail.com and
we'll ship off your Aurifil goodies!
THANKS everyone for all your comments and fun photos on our facebook page. We LOVED hearing about your summer and seeing your creativity!
NEXT UP

: Check back soon, we've got a BIG announcement to make in our next blog post! Ever wonder what it's like to be on the designing side of our quilty world? We're giving you a chance to find out! Stay tuned...
and...Keep those creative juices flowing...